Restaurant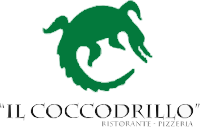 The '
Coccodrillo
'
restaurant
is situated on the splendid
seafront
of
Castiglioncello
, also called '
the Tyrrhenian pearl
', on the
Etrurian
Coast
: a strategical point of departure for the discovery of the surrounding territory or, simply, for a beautiful walk on the
seaside
.
Our peculiar, ship-like structure (completely renovated in 2007) features a
wide
glass
terrace
facing the
sea
.
The dining room is bright and painted in sandy and bright colours that go well with the wooden ceiling; the soundproof room guarantees the customer's privacy, as well as an evocative landscape.
Numerous modern comforts and technology (such as purifiers) complete the restaurant's equipment.
Our
cuisine
is made of traditional, made-to-order dishes: the '
Cacciucco
alla
livornese
' (spiced fish soup), the '
Frittura
di
calamari
e
gamberi
' (squid and shrimp fry-up),
the '
Paranza
' (fried seafood) and the '
Pesce
in
barca
' (literally 'fish in the boat', a fish specialty), but more exclusive dishes, such as the '
Masterpiece
Spaghetti
' and the '
Mezze
Maniche
' with
Octopus
sauce
, are also served.
Finally, quality
wines
from our territory are available on our wine list to suit all tastes and accompany our dishes.
A bar and an outdoor area is also available: you must try our tasty 'schiacciatine' (flat bread) as a quick snack or during a romantic aperitif at sunset.
Contacts
+39 339 3460059
ristoranteilcoccodrillo@live.it
www.ilcoccodrilloristorante.it